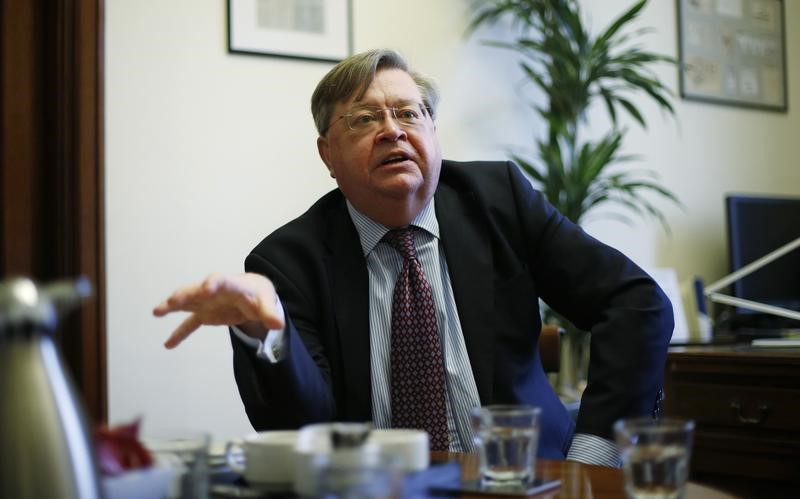 © Reuters. BOE's McCafferty Says Banks May Leave Before Brexit Deal Agreed
(Bloomberg) — Bank of England policy maker Ian McCafferty said clarity on Brexit will be needed early next year to prevent banks starting to shift jobs out of the country.
Warning that political and economic instability is bad for businesses, investment and the economy, he said there'll probably be some movement of banks out of London. He added that institutions are already making contingency plans and will have to start acting soon — even before it's clear what the final deal may be.
"They cannot wait until the last minute," he said during a phone-in on LBC radio. "I suspect we will start to see some things happen if we don't get any news certainly by next spring."
Asked about the turmoil in Prime Minister Theresa May's government, McCafferty declined to comment on specifics, but did note the potential for uncertainty to affect output. Defense Minister Michael Fallon quit last week amid allegations over his past behavior toward women and the future of a second member of government is in doubt after a breach of diplomatic protocols.
Pause for Thought
"Political or economic instability is both bad for financial markets and bad for businesses and consumers," McCafferty said. "What we do know is that in addition to the volatility in financial markets, it causes businessmen to pause for thought."
McCafferty isn't the first to warn about a looming unofficial deadline for banks, with Royal Bank of Scotland Group (LON:RBS) Plc Chairman Howard Davies saying in October that details of a post-Brexit transitional deal with the EU need to be outlined within months to stop jobs leaving.
Sam Woods, Britain's top banking regulator, said Nov. 1 that the U.K. could lose as many as 75,000 jobs in banking and insurance if it leaves the EU without a trade deal, with around 10,000 roles probably at risk on "day one" of Brexit. European Central Bank head of supervision Daniele Nouy said this week that about 50 banks have discussed their Brexit business-relocation plans with authorities in the bloc.
"There's a point at which, even before it becomes clear what the final deal will be — whether its no deal or some sort of deal — that banks will have to act," McCafferty said on Wednesday.
sponsoredArticle = 'div-gpt-ad-1466339494851-0';