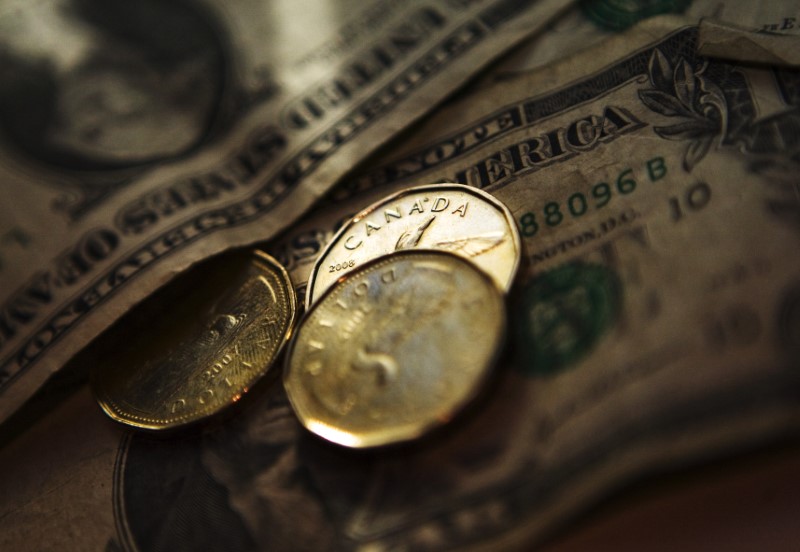 © Reuters. Greenback under pressure vs. loonie after downbeat U.S. data
Investing.com – The U.S. dollar held steady near two-and-a-half week lows against its Canadian counterpart on Thursday, after the release of downbeat U.S. jobless claims data and as concerns over the outcome of a major U.S. tax reform bill weigh broadly on the greenback.
USD/CAD was little changed at 1.2724 by 09:30 a.m. ET (13:30 GMT), just off a two-and-a-half week low of 1.2699 hit overnight.
The U.S. Department of Labor reported that initial jobless claims increased more than expected to 239,000 last week, dampening optimism over the strength of the job market.
Investors also remained cautious as a U.S. Senate tax-cut bill, which differs from one in the House of Representatives, was set to be unveiled on Thursday.
The Washington Post reported on Tuesday that Senate Republican leaders were thinking of postponing the implementation of major corporate tax cuts to comply with Senate rules.
Traders are concerned over any potential delays in the implementation of the tax cuts or the possibility that proposed reforms end up being less drastic than hoped for.
Market participants were also monitoring President Trump's trip throughout Asia. In a meeting with Chinese counterpart Xi Jinping on Wednesday, Trump said he aims to address what he considers to be unfair practices from China that have led to a mismatch of benefits from U.S.-China trade.
The president went on to say that the current relationship between the two countries is a "very one-sided and unfair one."
The remarks came a day after Donald Trump addressed tensions with North Korea, saying that Pyongyang "has interpreted America's past restraint as weakness" and that "this would be a fatal miscalculation."
In Canada, data on Thursday showed that new housing prices rose 0.2% in September, in line with expectations and following a 0.1% uptick the previous month.
The loonie was steady against the euro, with EUR/CAD at 1.4770.
sponsoredArticle = 'div-gpt-ad-1466339494851-0';