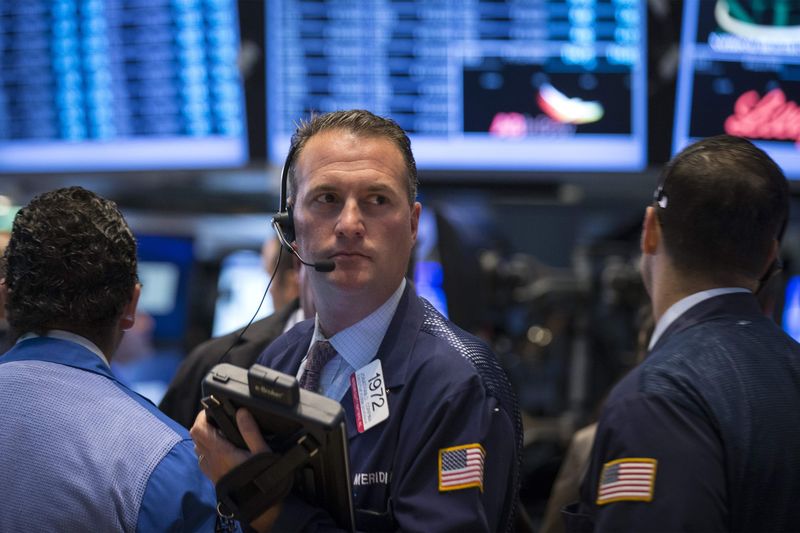 © Reuters. Top 5 Things to Know in the Market on Thursday
Investing.com – Here are the top five things you need to know in financial markets on Thursday, November 9:
1. Tax Reform Uncertainties, Trump Asia Tour Keep Dollar in Check
Sentiment on the dollar was fragile on Thursday, as a U.S. Senate tax-cut bill, which differs from one in the House of Representatives, was set to be unveiled later Thursday.
The Washington Post reported on Tuesday that Senate Republican leaders were thinking of postponing the implementation of major corporate tax cuts to comply with Senate rules.
Traders are concerned over any potential delays in the implementation of the tax cuts or the possibility that proposed reforms end up being less drastic than hoped for.
Market participants were also monitoring President Trump's trip throughout Asia. In a meeting with Chinese counterpart Xi Jinping on Wednesday, Trump said he aims to address what he considers to be unfair practices from China that have led to a mismatch of benefits from U.S.-China trade.
The president went on to say that the current relationship between the two countries is a "very one-sided and unfair one."
The U.S. dollar index, which measures the greenback's strength against a trade-weighted basket of six major currencies, was down 0.09% at 94.683 by 05:50 a.m. ET (09:50 GMT).
2. Crude Prices Steady Near Multi-Year Highs as Optimism Dominates
Crude prices steadied near multi-year highs on Thursday, after posting losses in the previous session when the U.S. Energy Information Administration said in its weekly report that crude oil inventories increased by 2.2 million barrels in the week ended November 3.
Market analysts' expected a crude-stock loss of around 2.9 million barrels.
However, losses were limited by mounting expectations that oil producing countries will agree to extend an output cut at their meeting at the end of this month.
Under the original terms of the deal, OPEC and 10 other non-OPEC countries led by Russia agreed to cut production by 1.8 million barrels a day (bpd) for six months. The agreement was extended in May of this year for a period of nine more months until March 2018 in a bid to reduce global oil inventories and support oil prices.
Discussions are continuing in the run-up to the Nov. 30 meeting, which oil ministers from OPEC and the participating non-OPEC countries will attend.
The U.S. West Texas Intermediate crude December contract was up 7 cents or about 0.12% at $56.88 a barrel by 05:50 a.m. ET (09:50 GMT), not far from the previous session's fresh two-year peak of $57.91.
Elsewhere, Brent oil for January delivery on the ICE Futures Exchange in London was up 7 cents or about 0.11% at $63.56 a barrel, just off a new two-year high of $64.65 hit on Wednesday.
3. Brexit Talks Set to Resume Amid Hopes for Year-End Deal
Brexit talks were scheduled to resume in Brussels later Thursday amid growing concerns amid European Union negotiators that London will fail to meet EU conditions next month for opening future negotiations.
EU representatives even discussed on Wednesday the possibility of delaying into next year the launch of talks with London on a post-Brexit relationship.
Germany and France in particular have demanded that British Prime Minister Theresa May agree in principle to pay an exit bill of several tens of billions of euros before EU leaders agree to open a second phase of Brexit negotiations.
The fresh round of talks comes after the UK government on Tuesday said it would submit legislation to parliament to let the country pursue an independent trade policy once it leaves the EU.
The pound edged lower, with GBP/USD down 0.15% at 1.3095 by 05:50 a.m. ET (09:50 GMT).
4. Gold Holds Steady With Eyes on U.S. Developments, Palladium Near 16-Year Highs
Gold prices held steady near the previous session's almost three-week highs thanks to a softer U.S. dollar and lingering geopolitical tensions.
Speaking in South Korea on Tuesday, U.S. President Donald Trump addressed tensions with North Korea, saying that Pyongyang "has interpreted America's past restraint as weakness" and that "this would be a fatal miscalculation."
The rogue nation responded to Trump's remarks by calling the U.S. President a "lunatic old man" and saying that the U.S. must remove him from power "to get rid of the abyss of doom."
Markets were also jittery as Saudi Arabia continued to conduct an anti-corruption purge among the highest levels of the establishment.
After a first crackdown over the weekend, Saudi authorities said on Wednesday that they had made additional arrests and frozen more bank accounts among the kingdom's political and business elite.
Comex gold futures were little changed at $1,284.40 a troy ounce by 05:50 a.m. ET (09:50 GMT), just off Wednesday's nearly three-week high of $1,287.52.
Meanwhile, palladium prices hit their highest level since 2001 at $1,020.90, boosted by the progressive transition to petrol engines and expectations for growth in hybrid electric vehicles.
5. Fresh U.S. Corporate Earnings Reports in Focus
Dozens of companies are expected to release quarterly results today, as the U.S. earnings season continues to wind down.
Brooks Automation Inc (NASDAQ:BRKS), Chesapeake Utilities Corporation (NYSE:CPK), EV Energy Partners LP (NASDAQ:EVEP), Foresight Energy LP (NYSE:FELP) and Liberty Media Corp (NASDAQ:FWONA) are a few of the names posting results ahead of the opening bell.
After the close, Air Lease Corporation (NYSE:AL), BioTime Inc (NYSE:BTX), Catabasis Pharmaceuticals Inc (NASDAQ:CATB), Intrexon Corpn (NYSE:XON), Marin Software Inc (NYSE:MRIN) and Nordstrom Inc (NYSE:JWN) are set to release earnings.
U.S. equity markets pointed to a lower open on Thursday. The Dow Jones Industrial Average futures pointed to a 0.10% fall, S&P 500 futures signaled a 0.16% decline, while the Nasdaq 100 futures indicated a 0.17% loss.
sponsoredArticle = 'div-gpt-ad-1466339494851-0';